High-tech, high-touch and always senior-centered.
When SCAN was founded in 1977, it was seniors who took the lead, bringing together the services and support they needed to remain healthy and independent. SCAN looks a little different today, but the mission remains the same. And, as incoming CEO, I'm very proud to be stepping into this organization at this point in time.
While we are focused on the future for SCAN and for senior care, I want to acknowledge the work of my predecessor, Chris Wing, and the team at SCAN that accomplished so much in 2019. This report highlights just some of their work—in particular, the organization's commitment to person-centered innovation.  
SCAN reached a high-water mark when the health plan membership hit 215,000 by year's end. This growth inspires us to help even more older adults remain healthy and independent.
At the same time, it challenges us: How do we continue to deliver care and services that speak directly to our members' needs, when those needs are as diverse as the members themselves?
SCAN has stepped up to meet this challenge with the strategic use of technology, innovative processes, and productive partnerships to ensure that what matters most to older adults remains at the center of everything we do.
That means the personal touch we're known for also remains front and center. As valuable as a Fitbit, a text or data-driven outreach can be, none can replace bringing a cake to celebrate a 104-year-old member on her birthday, helping seniors share their life stories in a Guided Autobiography workshop, or calling to see how a member is doing after coming home from the hospital. These moments matter.
We look forward to delivering many more such moments in the years to come.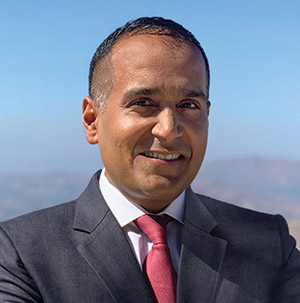 Sachin H. Jain, MD, MBA, FACP
President and CEO, SCAN Group and SCAN Health Plan